Scripture reading:
Proverbs 4:25; 7:2; 22:9; Psalms 19:8; 25:15; Matthew 6:22-24; John 1:29; Matthew 25:13; John 4:35; II Peter 2:14; I John 2:16
All parts of our body are mentioned in the Bible. There are many Scriptures concerning the eyes. I hope you will read the above Scriptures and find many others concerning the eyes. In Genesis 19 and in II Kings 6, we read of how God caused blindness to come upon people in order to deliver his chosen ones out of some trouble. We can see from this that the Lord can use blindness as well as sight. There are many people in the world today that are physically blind, and yet they "see" the Lord in all His beauty. Many of you have sung hymns written by Fanny Crosby. She wrote "Redeemed," "My Saviour First of All," "Pass Me Not," and many other beautiful songs that tell of the Wonderful Saviour; and yet she was physically blind. Even though she was blind, she could see spiritually how wonderful the Saviour is, and sing praises to Him. Truly, our spiritual eyes are more important than the physical eyes.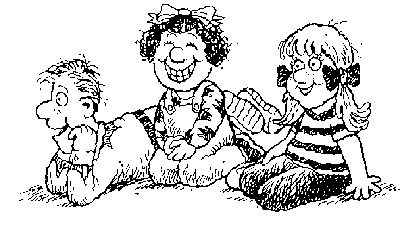 And yet, we are so thankful the Lord has given us our physical eyes! Let us think for a few minutes how our physical eyes are used. There are perhaps three levels on which our eyes are used. Some people go through life just seeing the low, evil, and sinful things in this world. Then some may use their eyes to see the beautiful scenery around them—beautiful trees, flowers, the mountains, etc. Then there are those that will yield to the Lord and use their eyes for Him. One way is to use our eyes to study the Word every day. Also our eyes can be used to be alert to opportunities to help others see the Lord and study His Word. Also, we can use our eyes to see things that can be done for the Lord. In John 4:35 the Lord speaks of looking up and seeing that the harvest is ready. This means that there is much to be done for the Lord right now. How sad that so few can see this, and therefore the laborers are few!
In I John 2:16 we read, "For all that is in the world, the lust of the flesh, and the lust of the eyes, and the pride of life, is not of the Father but is of the world." The lust of the eyes cause many to sin. Many people are harmed physically and spiritually because of the eyes being allowed to feast upon lust. Remember our eyes are part of our body, and "know ye not that your body is the temple of the Holy Spirit, you are not your own, you are bought with a price. Therefore, glorify God in your body, which is God's." Let us use our eyes for Him.
Watch your eyes, watch your eyes, what they see.
Watch your eyes, watch your eyes, what they see.
There's a Father up above, looking down in tender love.
Watch your eyes, watch your eyes, what they see.
"The statutes of the Lord are right, rejoicing the heart: the commandment of the Lord is pure, enlightening the eyes." (Psalms 19:8)
"The next day John seeth Jesus coming unto him, and saith, Behold (look upon—see) the Lamb of God, which taketh away the sin of the world." (John 1:29)
"Say not ye, There are yet four months, and then cometh harvest? behold, I say unto you, Lift up your eyes, and look on the fields; for they are white already to harvest." (John 4:35)