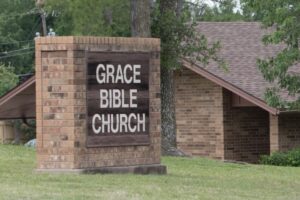 Grace Bible Church is an independent, non-denominational, church located on the east side of Fort Worth. We have no affiliation with any denomination or organization. As a result visitors sometimes ask: What type of church are you? What is your focus? The answer is found in our name.

Grace Bible Church – Our Purpose
GRACE
We are a grace church. We are committed to preaching the wonderful message of God's grace. Salvation today is not based on a person's works. Salvation is the gift of God through His Son, Jesus Christ, who died on the cross of Calvary for our sins and rose again. A person is saved when they believe this good news. We recognize that we are presently living in the dispensation of God's grace. We also know that during this time, God is building His Church, the Body of Christ. God's plan and purpose for this present age is found in the writings of the Apostle Paul to whom this truth was given by God.
BIBLE
We are a Bible church. We firmly believe the Bible is the inspired Word of God and that it is all profitable for our spiritual life and growth. It is the only means by which people can be saved and then come to understand God's purpose for their lives. This is why we focus our services on preaching and teaching God's Word. While all Scripture is written for our learning, it is not all written directly to us today. Therefore, we take a dispensational approach to Bible study, being careful to "rightly divide" the Word of truth.
CHURCH
We are a local church, an assembly of believers who meet together to worship and serve the Lord. We understand that there is only one true Church, the Body of Christ. We realize that the Holy Spirit baptizes all believers into this Church the moment they trust Christ as Savior. Our purpose is to worship and praise the Lord, to study the Scriptures, to love and support each other, to spread the message of God's saving grace through Jesus Christ, and, in all things, to glorify and honor our Lord.
Learn more about our Core Beliefs.
Grace Bible Church – Our Services
Grace Bible Church is a place of worship where the love of God's Word, the Lord Jesus Christ, and all people is taught and shown in every way possible. The services are orderly, Christ-centered, and warm. We emphasize preaching the gospel of Jesus Christ and teaching God's Word, rightly divided. We would love to have you be a part of our worship services.
CURRENT SERVICES: Due to the Covid-19 global pandemic, we currently only have two services each week: our Sunday school classes at 10:00 AM and our morning worship service at 11:00 AM. We hope to add back in our Sunday evening, Wednesday evening, and ladies Bible class in the near future.
Sunday School  10:00 AM
Nursery (ages 2 and under)
We have a nursery staffed by experienced, loving volunteers who will take care of your little ones. As a result, mothers and fathers get to enjoy the study of God's Word in their own class.
Children's Classes (ages 3 to 12)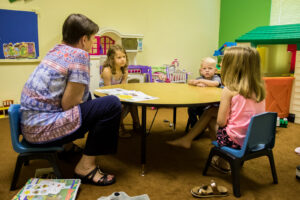 We begin teaching children at age 3 using a variety curriculum options, including Gospel Light, Betty Lukens Flannelgraphs, and ABEKA flashcard lessons.The lessons focus on giving these children a solid foundation of basic Bible truth, including an introduction to dispensational Bible study.
Junior High and High School
Our junior high students go into more depth, especially in the dispensational study of the Scriptures. The curriculum includes lessons from Grace Publications and the new "Growing in Grace" curriculum. Our high school students go even deeper into Bible study, as well as exploring topics emphasizing the issues young people face as they make decisions about their future.
Adult Class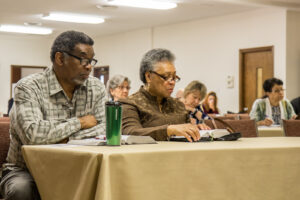 The adult class studies doctrinal issues or individual books of the Bible from a dispensational viewpoint. Questions and discussion are welcome.
Sunday Worship  11:00 AM
Preaching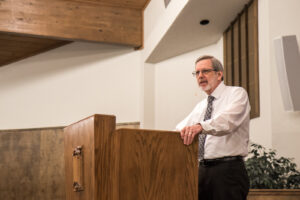 We preach the Word of God "rightly divided." The preaching is expository in approach (examining Bible passages in context), even when addressing topical areas (i.e. salvation, Christian walk, faith, etc.). The gospel of Jesus Christ is emphasized in each message. Our desire is that all men might "be saved and come to a (full) knowledge of the truth" (1 Timothy 2:4); that we all might be grow and mature spiritually in Christ (Colossians 1:28); and that we might be "thoroughly equipped for every good work" to go out and serve the Lord (2 Timothy 3:17).
Music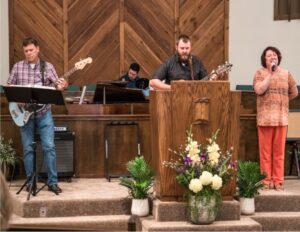 The music is a blend of traditional and contemporary, using a choir at times and a praise team at others. Music is carefully chosen to emphasize songs that are true to God's Word. We sing the tried and true hymns of the faith as well as the newer praise songs. Our desire is that we may sing with "grace in our hearts to the Lord" (Colossians 3:16) in order to praise and honor Him.


Giving
The work of the Lord at Grace Bible Church is carried out through the free-will offerings of the saints. We have no tithes or pledges. We ask you to give only as you feel led of the Lord. "So let each one give as he purposes in his heart, not grudgingly or of necessity; for God loves a cheerful giver" (2 Corinthians 9:7). You can make On-line Donations using PayPal .
Nursery
A nursery is provided for children under age 4. Our nursery is staffed by caring, experienced adult volunteers who will provide a safe, enjoyable environment for your little ones.
Children's Church (ages 4 to 8
A children's church class is provided after the music for children ages 4 to 8. Knowledgeable teachers will share the truths of God's Word with your children. We feel it is important to "train up a child in the way he should go" so that "when he is old he will not depart from it" (Proverbs 22:6).
5th Sunday Lunch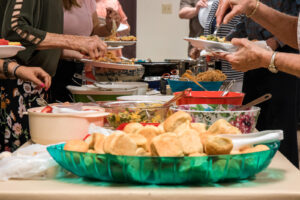 Whenever a 5th Sunday occurs in a month, we have a luncheon following the morning service in the fellowship hall. This is a wonderful opportunity to get to know each other better and enjoy a good meal (pot-luck) together. We do not have an evening service on these 5th Sundays.
Sunday Evening  6:00 PM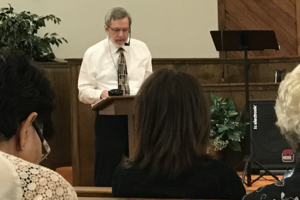 Many churches have dispensed with evening services, but we feel it is important to provide another opportunity for people to worship the Lord and study the Scriptures together. Our Sunday Evening Worship Service is more informal with a deeper teaching from the Scriptures. In addition, we also have newer praise songs. This is often a much smaller group than Sunday morning, so there is no children's church. However, children are welcome in the service.
Wednesday Bible Study  7:00 PM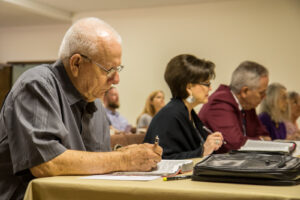 On Wednesday nights we meet together in a less formal service for prayer and Bible study. Meeting together in the middle of the week helps us keep our hearts and minds focused on the Lord and His Word. We begin with a time of sharing and prayer, focusing on the needs/requests of individuals, the ministries God has given us, the missionaries we support, as well as current needs in our own country and in the world. The Bible studies generally are longer series of messages. We go a little deeper into the Word than we are able to during our Sunday morning worship services. Past studies have included series on: Godliness, the Ordinances, the Life of Christ, and the Revelation. Questions and discussion are always welcome.
Saturday Ladies Bible Study  10:00 AM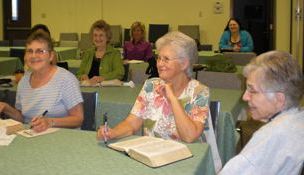 On Saturday mornings the ladies meet together for a time of Bible study together. They also discuss various ways they can be more involved in the ministry of the church. All the ladies of the congregation are welcome to attend.
Grace Bible Church – Our Location
Grace Bible Church
1450 Oak Hill Road
Fort Worth, TX 76112-3017
East side of Fort Worth in the Meadowbrook area.
Just south of I-30 about 1 mile west of East Loop 820.
At the corner of Brentwood Stair and Oak Hill Road.