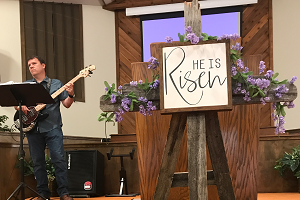 Grace Bible Church is a place of worship where the love of God's Word, the Lord Jesus Christ, and all people is taught and shown in every way possible. The services are orderly, Christ-centered, and warm. We are committed to preaching the gospel of Jesus Christ and teaching the Word of God, rightly divided. We would love to have you come and be a part of our worship services.
Where are you located?
Grace Bible Church
1450 Oak Hill Road
Fort Worth, TX 76112-30187
(817) 451-0937
East side of Fort Worth in the Meadowbrook area.
Just south of I-30 about 1 mile west of East Loop 820.
At the corner of Brentwood Stair and Oak Hill Road.
When are your services?
Sunday Services
Sunday School   10:00 AM
Morning Worship   11:00 AM
Evening Worship   6:00 PM ( Currently suspended )
Wednesday Service
Bible Study / Prayer   7:00 PM ( Currently suspended )
Saturday Service
Ladies Bible Study   10:00 AM ( Currently suspended )
Where should I park?
There are parking spaces located around the building and entrances on all sides. Handicapped spaces are available as well. The main entrance is on the south side of the building.
How should I dress?
Dress how you're comfortable; there is no dress code. People dress in a number of ways on any given Sunday, from suits and dresses to slacks and jeans. We are simply happy to have you with us in the services.
What about my children and teens?
During both Sunday school and morning worship, we provide a nursery staffed by experienced, loving volunteers who will take care of your little ones. As a result, mothers and fathers can enjoy the study of God's Word in their own class.
During Sunday school, we have classes for all age groups, from age 3 to adult.
During the morning worship service, we have a children's church class for ages 4 to 8 that begins after the musical portion of the service.
During our Sunday evening worship service and our Wednesday evening Bible study, no nursery or children's class is provided, although your children are welcome to attend.