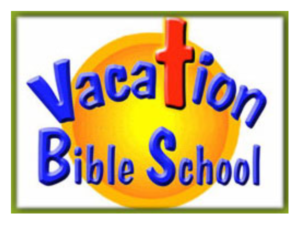 Our Vacation Bible School is held each Summer. We have Bible classes, crafts, snacks, and singing for children and youth, ages 3 to 12. On Friday, we have pizza and ice cream for lunch. VBS has been a wonderful opportunity to reach out to children in our community with the truth of God's love for us through Jesus Christ. There is no pre-registration for our VBS; we encourage everyone to come a little early the first day to register.
July 29 to August 2, 2019
Classes for ages 3 through 12.
9:00 A.M. to Noon each day.
Pizza and Ice Cream Lunch on Friday.
Bring your friends and join us!
No Pre-Registration required
Activities each day will include the following: joyful singing, interesting Bible lessons, enjoyable crafts, challenging games, and delicious snacks. On Friday, at the end of the day, we will have pizza and ice cream for lunch for both the children and their families.
There is no pre-registration for our VBS. Just come a little early the first day and fill out registration forms for your children.
Theme: A Life Transformed by Christ — The Life of the Apostle Paul
We will be studying the life of the Apostle Paul, a man whose life was transformed by God's grace. He began as Saul of Tarsus, a self-righteous religious leader who persecuted all who were followers of Jesus Christ. But, when the Lord Jesus called him as he traveled on the road to Damascus, Saul came to believe in Jesus Christ as Savior and his life was completely changed. He became the Apostle Paul, a man who faithfully served the Lord the remainder of his life. Paul was used of God to preach the good news of Jesus Christ throughout the inhabited world. He taught God's Word to both Jews and Gentiles everywhere he went, though he suffered terrible persecution because of his beliefs and his unwavering stand for Christ. Paul was also used to record about half of the books of the New Testament. It is in Paul's writings that we find God's plan and purpose for believers in this present age of grace.
We will look at how Paul's life was transformed and how our lives can be transformed as well by the wonderful grace of God manifested to us through our Lord and Savior, Jesus Christ.