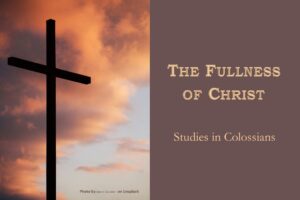 Our Bible conference is held each year in March, the anniversary month for our church, which was founded in 1929. We have worship services at 7:00 and 8:30 PM on Friday and Saturday nights, at 10:00 and 11:00 AM Sunday mornings, and a closing service at 7:00 PM Sunday night.
March 17-19, 2023
Theme: The Fullness of Christ – Studies in Colossians
We invite you to join us for our annual Bible conference this year. We will be studying through Paul's letter to the saints at Colosse.
Make your plans to be with us for each service as we worship the Lord, study His precious Word, and enjoy some great times of fellowship together.
Highlights:
Times:   Friday & Saturday at 7:00 PM and 8:30 PM. Sunday at 10:00 AM, 11:00 AM, and 7:00 PM.
Music:   Singing to praise and worship the Lord at each service.
Fellowship:   Enjoy refreshments and fellowship between the services each night.
Speaker Schedule
Friday, March 17, 2023
7:00 PM — Colossians 1:1-14 – "A Walk Worthy of Christ"
Pastor Mark Carr : Arlington Community Church, Arlington, TX
8:30 PM — Colossians 1:15-23 – "The Person and Work of Christ"
Pastor Mark Carr : Arlington Community Church, Arlington, TX
Saturday, March 18, 2023
7:00 PM — Colossians 1:24 – 2:7 – "The Mystery of Christ"
Pastor Charles Mays : Eleventh Avenue Church, Mineral Wells, TX
8:30 PM — Colossians 2:8-17 – "Complete in Christ"
Pastor Charles Mays : Eleventh Avenue Church, Mineral Wells, TX
Sunday, March 19, 2023
10:00 AM — Colossians 2:18-23 – "Upholding Christ Our Head"
Brother Jim Morrison : Grace Bible Church, Fort Worth, TX
11:00 AM — Colossians 3:1-14 – "Christ is Our Life"
Pastor Gregg Bing : Grace Bible Church, Fort Worth, TX
7:00 PM — Colossians 3:15-17 – "A Heart for Christ"
Pastor Gregg Bing : Grace Bible Church, Fort Worth, TX