This year's Bible Conference has been POSTPONED due to the uncertainties surrounding the Coronavirus!
We apologize for the inconvenience to many who had made plans to attend. We will miss this special time of worship and Bible study, as well as the times of fellowship with the saints. However, we felt this decision was a prudent move to make in doing our part to try and protect the health and safety of our congregations, our community, our state, and our nation. We hope to reschedule the conference sometime later in the year, the Lord willing.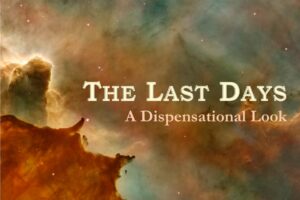 Our Bible conference is held each year in March, the anniversary month for our church, which was founded in 1929. We have worship services at 7:00 and 8:30 PM on Friday and Saturday nights, at 10:00 and 11:00 AM Sunday mornings, and a closing service at 7:00 PM Sunday night, followed by a light meal in the fellowship hall.
March 20-22, 2020
Theme: THE LAST DAYS – A Dispensational Look
We invite you to join us for our annual Bible conference this year. We will be studying topics related to "The Last Days" from a dispensational perspective. Pastor Dennis Smith, from Valley Bible Church in Stephens City, Virginia will be our featured speaker, bringing the Bible message each night at 7:00 PM as well as during the 10:00 AM service on Sunday.
Make your plans to be with us for each service as we worship the Lord, study His precious Word, and enjoy some great times of fellowship together.
Highlights:
Times: Each night at 7:00 and 8:30. Sunday morning at 10:00 and 11:00.
Singing: A time of praise and worship before the teaching at each service.
Nursery: For ages 3 and under, provided at each service.
Fellowship: Enjoy a time of refreshments and fellowship each night.
Light Meal: Join us for a light meal after the service on Sunday night.
Speaker Schedule
Friday, March 20, 2020
7:00 PM — Introduction – Impact of Pauline Theology
Pastor Dennis Smith : Valley Bible Church, Stephens City, VA
8:30 PM — The Apostasy
Pastor Mark Carr : Arlington Community Church, Arlington, TX
Saturday, March 21, 2020
7:00 PM — The Rapture / The Wrath to Come
Pastor Dennis Smith
8:30 PM — The Judgment Seat of Christ
Pastor Charles Mays : Eleventh Avenue Church, Mineral Wells, TX
Sunday, March 22, 2020
10:00 AM — The Man of Lawlessness
Pastor Dennis Smith
11:00 AM — The Day of the Lord
Pastor Gregg Bing : Grace Bible Church, Fort Worth, TX
7:00 PM — The Purpose of the Tribulation
Pastor Dennis Smith
8:30 PM — Light Meal
Fellowship Hall