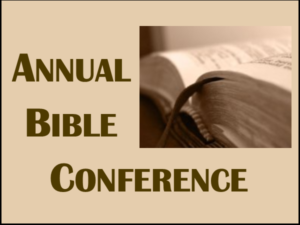 Our Bible conference is held each year in March, the anniversary month for our church, which was founded in 1929. We have worship services at 7:00 and 8:30 PM on Friday and Saturday nights, at 10:00 and 11:00 AM Sunday mornings, and a closing service at 7:00 PM Sunday night, followed by a light meal in the fellowship hall.
March 15-17, 2019
Theme: "Continuing in the Faith"
We invite you to join us for our annual Bible conference this year. We will be studying through the book of 2 Timothy, Paul's final letter to his young son in the faith, Timothy, encouraging him to continue in the faith and fulfill the ministry he had been given by the Lord. Make your plans to be with us for each service as we worship the Lord, study His precious Word, and enjoy some great times of fellowship together.
Highlights:
Times: Each night at 7:00 and 8:30. Sunday morning at 10:00 and 11:00.
Singing: A time of praise and worship before the teaching at each service.
Nursery: For ages 3 and under, provided at each service.
Fellowship: Enjoy a time of refreshments and fellowship each night.
Light Meal: Join us for a light meal after the service on Sunday night.
Speakers:
Friday, March 15, 2019
7:00 PM — President Ken Kemper
Grace Christian University, Grand Rapids, MI
2 Timothy 1:1-12
8:30 PM — Pastor Kerry Malakosky
Liberty Heights Chapel, Lawton, OK
2 Timothy 1:12-18
Saturday, March 16, 2019
7:00 PM — Pastor Charles Mays
11th Avenue Church, Mineral Wells, TX
2 Timothy 2:1-13
8:30 PM — Pastor Bill Hudson
Midpoint Chapel, Millsap, TX
2 Timothy 2:14-26
Sunday, March 17, 2019
10:00 AM — Pastor Gregg Bing
Grace Bible Church, Fort Worth, TX
2 Timothy 3:1-9
11:00 AM — Pastor Dennis Smith
Valley Bible Church, Stephens City, VA
2 Timothy 3:10-17
7:00 PM — Pastor Mark Carr
Arlington Community Church, Arlington, TX
2 Timothy 4:1-22
8:30 PM — Light Meal
Fellowship Hall