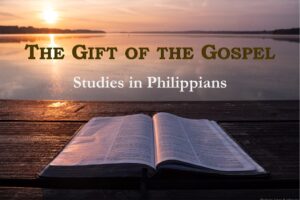 Our Bible conference is held each year in March, the anniversary month for our church, which was founded in 1929. We have worship services at 7:00 and 8:30 PM on Friday and Saturday nights, at 10:00 and 11:00 AM Sunday mornings, and a closing service at 7:00 PM Sunday night.
March 25-27, 2022
Theme: The Gift of the Gospel – Studies in Philippians
We invite you to join us as we resume our annual Bible conference this year after missing it the last 2 years due to the Covid-19 pandemic. We will be studying through Paul's letter to the believers at Philippi. Pastor Dennis Smith, Senior Pastor of Valley Bible Church in Stephens City, Virginia will be our featured speaker, bringing the Bible message each night at 7:00 PM as well as during the 11:00 AM service on Sunday.
Make your plans to be with us for each service as we worship the Lord, study His precious Word, and enjoy some great times of fellowship together.
Highlights:
Times: Friday & Saturday at 7:00 PM and 8:30 PM. Sunday at 10:00 AM, 11:00 AM, and 7:00 PM.
Music: Singing to praise and worship the Lord at each service.
Fellowship: Enjoy refreshments and fellowship between the services each night.
Nursery: For ages 3 and under, provided for each service.
Children's Class: For ages 4-8, provided for each service.
Speaker Schedule
Friday, March 25, 2022
7:00 PM — Philippians 1:1-11 – "A Prayer of Thankfulness"
Pastor Dennis Smith : Senior Pastor of Valley Bible Church, Stephens City, VA
8:30 PM — Philippians 1:12-30 – "The Furtherance of the Gospel"
Pastor Dwight Anderson : Director of Prison Mission Association, Port Orchard, WA
Saturday, March 26, 2022
7:00 PM — Philippians 2:1-18 – "The Mind of Christ"
Pastor Dennis Smith : Senior Pastor of Valley Bible Church, Stephens City, VA
8:30 PM — Philippians 2:19-30 – "Servants of the Gospel"
Pastor Timothy Board : Development Director of Things to Come Mission, Indianapolis, IN
Sunday, March 27, 2022
10:00 AM — Philippians 3:1-21 – "Righteousness from God"
Brother Matt Morrison : Grace Bible Church, Fort Worth, TX
11:00 AM — Philippians 4:1-9 – "Peace that Passes Understanding"
Pastor Dennis Smith : Senior Pastor of Valley Bible Church, Stephens City, VA
7:00 PM — Philippians 4:10-23 – "The Gift that Sustains"
Pastor Dennis Smith : Senior Pastor of Valley Bible Church, Stephens City, VA