Boys and girls, we have studied in several lessons about Christ dying for all the people in the world. I'm sure you can see, if you have followed each lesson, that Christ not only died for all others, but that He also died for you! I hope you have not only seen this, but have accepted Him as your own personal Saviour. Romans 10:9-10 tells us that we must confess with our mouths, and believe in our hearts. Believing with the heart is really accepting Christ.
If we have Christ for our Saviour, wouldn't it be a very selfish thing not to want to share this wonderful news with others? There are still people that have never been told that Christ loves them and that He died for them. At first we may think of the heathen in far off countries, but let us remember that many people here in our own country are not saved. We could go farther and say that many right in our individual towns, and yes, right in our own individual families, have not realized that Christ died for them. That means, of course, that their relationship with God is still broken. Without Christ, they are lost, and must suffer the consequences—"The wages of sin is death…" This is eternal death.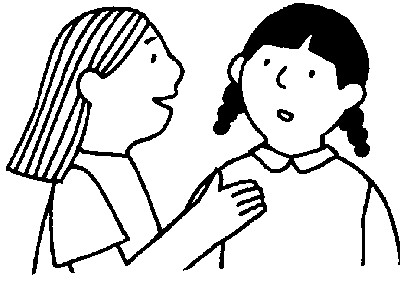 Have you told others of your Saviour? Have you told others that He wants to be their Saviour, too? There may be some of you who have mothers and fathers who are not saved. Have you told them that Christ died for them. Have you told your friends at school? Of course, the Lord does not want us to be rude at school, at home, or any other place, but if we will just pray and wait on the Lord, He will give us the opportunity to speak to others about His Son.
There are other ways of telling others of Christ, too, besides talking to them. We can let our lives so count that others may see Christ in us. In the next lesson we will begin a series of lessons on living for Christ. In the meantime, will you read Romans 12:1-3? Would you try to even memorize at least the first of these verses before reading the next lesson? Maybe some of you can memorize all three.
God's Plan of Salvation
GOD SAID IT
CHRIST DID IT
I BELIEVE IT
THAT SETTLES IT!
"For I deliver unto you first of all that which I also received; how that Christ died for our sins, according to the scriptures. That He was buried and rose again the third day, according to the scriptures." (I Corinthians 15:3-4)
"That if thou shalt confess with thy mouth the Lord Jesus, and believe in thine heart that God has raised Him from the dead, thou shalt be saved. For with the heart man believeth unto righteousness, and with the mouth confession is made unto salvation." (Romans 10:9-10)