Scripture reading:
Matthew 26:14-16; 26:47-50; 27:3-10
"All we like sheep have gone astray; we have turned everyone to his own way. And the Lord hath laid on Him the iniquity of us all." (Isaiah 53:61)
When Jesus was praying in the garden of Gethesemane, it was Judas who told the mob which one was Jesus. He did this by going up and kissing Jesus. This was a sign that this would be the man for whom they were looking. That was the signal agreed upon so that the mob would be sure to get the right one when they went to arrest Jesus.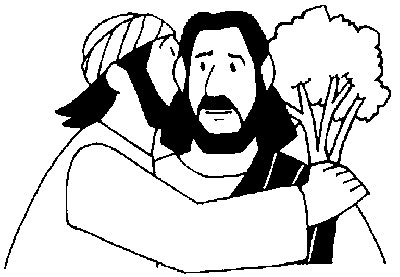 It may have been greed for money that prompted Judas to betray the Lord. We read in the Word that he was to receive thirty pieces of silver for this act. Thirty pieces of silver wasn't much money, in fact, it was only the amount that one would pay for an ordinary slave in that day. Perhaps Judas had expected Jesus to set up a kingdom on the earth at this time and give him (Judas) a place of honor. Instead Jesus was always talking about His heavenly father and kingdom of heaven.
Whatever the reasoning, Judas did betray the Lord Jesus, but when he saw the high priest lead Jesus away to be judged by Pilate, then Judas was sorry that he had bargained as he had. He returned to the ones who had given him the money and threw the money at their feet. When they refused to take the money back, Judas felt more worried than ever. However, instead of doing the one thing that would have brought peace to his soul—which would be to acknowledge his sin to Jesus and ask for forgiveness—he went out and hanged himself.
Yes, Jesus died for people like Judas who let spite and greed and selfish desires keep him from the Saviour. Judas needed only to accept Jesus as Saviour, but refused to do this. Christ died for this one that betrayed Him, but remember He also died for you and me!
Will you accept Him as your Saviour? Even there in your home or wherever you are you can surrender to Him and accept His death as payment for your sin. He will save you.
"For the wages of sin is death, but the gift of God is eternal life through Jesus Christ, our Lord." (Romans 6:23)
"Then one of the twelve, called Judas Iscariot, went unto the chief priests, and said unto them, What will ye give me, and I will deliver him unto you? And they covenanted with him for thirty pieces of silver. And from that time he sought opportunity to betray him." (Matthew 26:14-16)
"And while he yet spake, lo, Judas, one of the twelve, came, and with him a great multitude with swords and staves, from the chief priests and elders of the people. Now he that betrayed him gave them a sign, saying, Whomsoever I shall kiss, that same is he; hold him fast. And forthwith he came to Jesus, and said, Hail, master; and kissed him. And Jesus said unto him, Friend, wherefore art thou come? Then came they, and laid hands on Jesus, and took him." (Matthew 26:47-50)