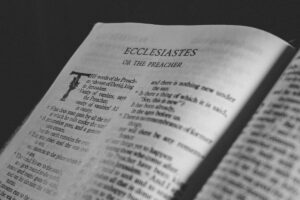 Our teaching and preaching of God's Word is expository, meaning that we study through portions of Scripture in context to understand the meaning. Because of this many of our Bible message series are studies through books of the Bible. This includes books from both the Old and New Testaments. Select one of the series below to listen to a message from one of these book studies.
New Testament Book Studies
Old Testament Book Studies
The Book of Ruth

This series of Bible messages explores the book of Ruth, an account of events which took place during the Judges period, a dark time in the history of God's people, Israel. It is one of only two books of the Bible named for women. Ruth, a Moabitess, is a woman of great faith and devotion to God. This book ...

The Book of Esther

The book of Esther is a record of God's providential protection of the Jews who chose to remain in captivity rather than return to their own land. This book is one of only two books of the Bible named after women. Esther, a young Hebrew woman, rises to become queen in Medo-Persia. In this position she is given the opportunity ...

The Book of Jonah

This series of Bible messages is a study through the book of Jonah. The book of Jonah is often attacked by Bible critics as being a fantasy, but our Savior Himself attested to the historical accuracy of this record (Matthew 12:39-41). We examine the ministry of this prophet of God who was sent to Ninevah, the wicked capital of Assyria, ...