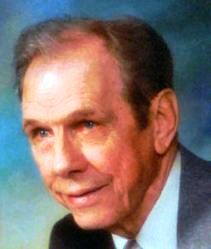 Home with the Lord
Pastor John D. LaVier went home to be with the Lord on September 21, 2005, at the age of 99. His son and daughter-in-law, John and True, spent the last few days with him in his room. Though there is certainly sorrow at his loss, we rejoice in knowing that this beloved servant of the Lord is now in the presence of his Savior, and reunited with his dear wife, Ferne.
Brother John LaVier spent his lifetime preaching, teaching and writing in the ministry of the Word of God. He began his work for the Lord in North Shore Church in Chicago and was there assisting Pastor J.C. O'Hair for about 16 years. He was Pastor in Michigan City for 3 years before going to Grace Church in Indianapolis, Indiana in June 1945. He served as Pastor there for 47 years, retiring in 1992. Brother LaVier also served for a number of years as editor of The Morning Star, a Biblically oriented paper he published with Brother John Verleur and Dr. Harry Bultema. This all adds up to well over 65 years of faithful service to our Lord Jesus Christ.
In addition to the numerous articles he wrote through the years, Brother LaVier also authored three books: Yokefellows, a study of Paul and his companions, Sure Words of Prophecy, a Scriptural and dispensational preview of things to come, and The Lord Has Spoken, a study of some of the "sundry times" and "divers manners" in which God has spoken to His people.