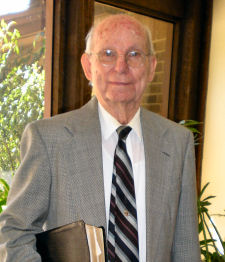 ( 1917 – 2013 )
Pastor Charles Wages went home to be with the Lord on Saturday, July 27, 2013, at the age of 96. His funeral service was held Thursday, August 1, at Grace Bible Church in Fort Worth where he served as pastor for 37 years.
Pastor Wages received both his bachelor's and master's degrees and administrative certification from North Texas State University. From 1948 to 1957, he served as a teacher, counselor and principal at Pilot Point, and from 1957 to 1979 as assistant superintendent then superintendent in the Hurst-Euless-Bedford Independent School District. He served in the U.S. Coast Guard during World War II as a radar man.
Pastor Wages served in the ministry of the Lord for over 60 years. He was a youth pastor and assistant pastor from 1936 to 1948 and a pastor in Denton county from 1948 to 1965. In 1965, Pastor Ike T. Sidebottom resigned as pastor of College Avenue Church because of failing health, and the men of the congregation asked Brother Wages to become pastor. He served as pastor of the church, which later became Grace Bible Church, until stepping down in 2002. During those years, he also served as editor of the Timely Messenger.
We thank the Lord for the life and faithful ministry of this beloved saint of God, and ask that you be in prayer for his family: his dear wife, Beverly, to whom he was married for 76 years; his son, Kenneth Wages and wife, Laura; his daughter, Janie Cox, and husband, Conald; as well as all their families.
---
"Therefore, my beloved brethren, be ye stedfast, unmoveable, always abounding in the work of the Lord, forasmuch as ye know that your labour is not in vain in the Lord." (1 Corinthians 15:58)