Scripture Reading: Acts 9:20-31; 14:19; 16:22-34
In previous lessons we have seen how Paul was changed from one who was against the Lord to one who loved the Lord and served the Lord. He knew that the Jesus that was crucified on the cross, had indeed died for him and for all who would believe. Paul not only accepted Jesus as Saviour, but he knew Him as Lord. He immediately wanted to do whatever Jesus desired him to do. As Christians we should know and accept Him as Lord of our lives. We should seek the will of the Lord for our own lives. As Christians, young or old, we often have a fear of living openly for Him. Or maybe, we are just a little timid to live for Him, especially when other Christians are not around.
We saw in the previous lesson that in Acts 9:20, concerning Paul, "And straightway he preached Christ in the synagogues, that He is the Son of God." Paul knew how the religious Jews felt about anyone who would say that this Jesus really was the Son of God. He knew he could have been stoned to death. But he had faith in what the Lord had told him.
Remember in the previous lesson, the Lord had told Ananias that Paul was a chosen vessel. He would be used to bear the name of Christ to the Jews, Gentiles, and kings. If God was going to use him in this way, he knew God would take care of him. If Paul had any fear, this fear was put aside to do the will of his Lord.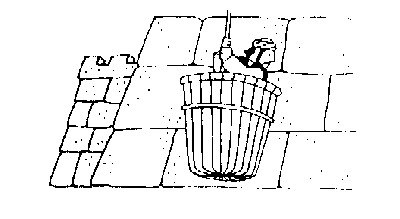 As we read on down in this ninth chapter of Acts, we see that God did take care of Paul in many ways. However, as he preached many were amazed at the change in Paul. We see also in verse 22 that the more Paul preached and stood for the Lord the more he increased in strength. In verse 31 we read, "Then had the churches rest throughout all Judaea and Galilee and Samaria, and were edified; and walking in the fear of the Lord, and in the comfort of the Holy Ghost, were multiplied."
Yes, as Paul went around preaching concerning the Lord, many believed. However, there were still many who would not accept Jesus as the Christ. Paul had many trials in taking his stand for the Lord.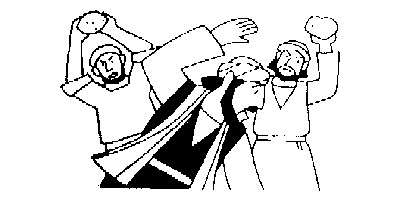 In Acts chapter 14 and verse 19, we find he was stoned; in chapter 16 and verses 22-23, we see that Paul and Silas were beaten; and then in verse 24 we find them put in prison in chains. However, Paul and Silas were still happy in the Lord. They were praying and praising the Lord in song at midnight right there in the prison. They were not happy to be in prison, but were happy because of their wonderful Saviour and Lord. They had the peace of knowing that the Lord would take care of them wherever they were.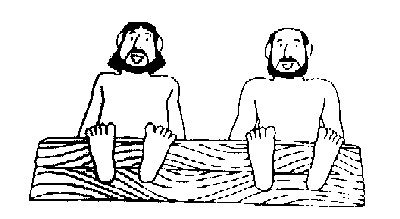 Also, they wanted to serve Him and praise Him wherever they were. The Lord did deliver them. In this same chapter 16, verses 25-34, we see that the Lord caused a great earthquake and opened all the doors and their chains were loosed. When the jailor saw this, he was afraid because he knew he would be punished for letting the prisoners escape. He started to kill himself, but Paul stopped him, and told him his prisoners were still there. The jailor was astonished, and because of the things that Paul and Silas had done, he asked them how he could be saved. We see in this portion of Scripture that he was saved and all his family. We can see then that many of the trials that Paul had, worked out for good. Even as a prisoner, he witnessed for the Lord and saw souls saved.
We may not understand all things that come in our lives. But, if we commit our lives to Him and live for Him, we can see that,
"All things work together for good to them that love God, to them who are the called according to his purpose." (Romans 8:28)