Scripture reading: Ephesians 3:1-9
In previous lessons, we have studied a lot about Paul, as a man. We have also seen how he was saved; and we saw how the Lord gave him his commission to minister to Jew first, then to the Gentiles (Romans 1:16).
If you haven't read the Scripture text above, I hope you will do so before you continue this lesson. Then with your Bible open and referring back to this chapter you will get much more from this study.
Remember that the Spirit of God inspired Paul to write this just as the other "holy men of God" were moved of the Spirit to write the inspired Word.
In verse one of this third chapter of Ephesians, we can see several things about Paul and his ministry. Paul was a prisoner, but he looked at it as being the "prisoner of Jesus Christ."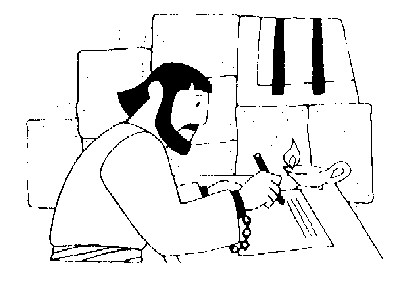 Here, too, he tells us that it was "for you Gentiles." In the next verse we are told of "the dispensation of the grace of God." For you who are reading this, I hope you won't be confused about Paul calling this the dispensation of the grace of God. The word "dispensation" here only means how God deals with us today, in this age in which we are living. The more you study the more you will understand this. This age in which we are living today is called "the dispensation of grace." That is, God is dealing with us today through pure grace. Our salvation comes from grace apart from any work we do. In Ephesians 2:8-9 we read,
"For by grace are ye saved through faith. And that not of yourselves, it is the gift of God, not of works lest any man should boast."
God has always dealt in grace, mercy, and love toward all mankind. However, under the Law of Moses, works had to be done also. Today is the only period of time that God calls "the dispensation of grace."
In Ephesians 3:3, Paul tells us that God revealed to him a "mystery" to be given to people of this age (dispensation). This wasn't and isn't a mystery like many fictional mystery stories today. It was just that it was a secret that only God knew, until he revealed it to Paul to write as part of the inspired Word for us. He was to reveal things now that had not been known by other men—not even the godly men that He used to write the Old Testament. In verse 5, we see that this was not made known to men of other ages. Verse 6 tells us about this mystery or secret that was not known or prophesied by any one else. Here we read that the Gentiles will be "fellowheirs, and of the same body." It was no secret or mystery that the Gentiles would be saved. Even in Old Testament times, Gentiles could be saved by becoming as a Jew. But this was something new and different. Paul was revealing that there would be a new body of people. This would be a "church" that would be made up of Jews and Gentiles. All would be saved just alike, that is by accepting the salvation that Christ worked out when He died on the cross of Calvary. As God looks down today, He sees neither Jew nor Gentile. He only sees all saved people in His church today. There is no spiritual difference in Jew and Gentile, today. This is the true church for today. In the next lesson, we will go further into the study of the "church."
If you have accepted the Lord Jesus Christ as your Saviour, you are in the true church today. If you have not accepted what Christ did for all when He died on the cross, then you are not a part of this true church today. This is a serious decision for all of us to make. We must believe in our hearts that Christ died for us because we are sinners and cannot save ourselves. I pray you will do that today, if you haven't before.
"Which he wrought in Christ, when he raised him from the dead, and set him at his own right hand in the heavenly places, far above all principality, and power, and might, and dominion, and every name that is named, not only in this world, but also in that which is to come: and hath put all things under his feet, and gave him to be the head over all things to the church, which is his body, the fulness of him that filleth all in all." (Eph. 1:20-23)