Scripture Reading: Acts 9:6-20
When Paul was traveling to Damascus and saw the great light and heard the voice of the Lord, there were others that were with him. In verse 7 we read about them, and see that they "stood speechless." they heard a voice, but did not know it was the Lord speaking. They looked around for some man. When Paul opened his eyes, he could not see. The men that were with him took his hand and led him into Damascus. For three days, he was blind, and didn't eat or drink.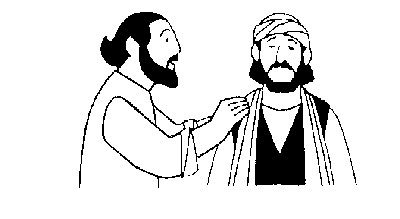 At this time the Lord brought another man into Paul's life. This man was a disciple living in Damascus. His name was Ananias. The Lord told him to go to Paul and told him just where Paul was in this city of Damascus. He also told him Paul was praying, and Ananias was to put his hands on him and heal his blindness. At first Ananias was afraid, and said that he had heard how that Saul of Tarsus was evil and went around trying to get rid of all the ones who believed in Jesus as Christ. He even knew that Paul had letters of authority from the chief priests to bind all that call on the name of the Lord. The Lord answered Ananias in verse 15,
"But the Lord said unto him, Go thy way; for he is a chosen vessel unto me, to bear my name before the Gentiles, and kings, and the children of Israel; for I will shew him how great things he must suffer for my name's sake."
In verse 17, we see that Ananias went his way and entered into the house where Paul was. Ananias was a true believer and a faithful man to obey the Lord. As the Lord had told him, he put his hands on Paul and his sight was returned. It is interesting to see that in verse 17, when Ananias went into the house to see Paul, he called him "brother." Ananias believed the Lord, and accepted Saul (Paul) as his brother in Christ. He also told Paul that the same Lord, even Jesus, that had appeared to him on the way, was the one that had sent him. True believers will want the Lord to have all the praise and glory for whatever happens. Ananias was just a messenger to do what the Lord told him to do. It was the Lord that healed Paul's eyes.
We notice in verse 19, that as soon as Paul was healed, he arose and was baptized. Paul was a Jew, and water baptism was an ordinance for the Jews in that day. Paul, as a Jew, obeyed this ordinance.
Verse 20 is a great climax to all that had happened to Paul.
"And straightway he preached Christ in the synagogues, that he is the Son of God."
What a change in Paul's life. He truly was a new creation. This is what Christ did for him. This is what Christ will do for everyone today. Jesus died to pay for the sins of all the world. The wages of sin is death, and Christ experienced that death to pay the price for our sinful condition. You can accept Him as your Saviour, right where you are. Just ask the Lord to come into your heart and life, and be your Saviour.