Scripture Reading: Acts Chapter 8
Will you please read as much of the Scripture text given above as you can, before reading this chapter. For many of the men that we study about in the Bible, we have a record of their birth and childhood. For this man Paul, the first record we have of him is when he was a grown man. Another interesting fact is that during these chapters in Acts we find his name being called Saul. In Acts 13:9, we read:
"Then Saul, (who also is called Paul) filled with the Holy Ghost, set his eyes on him."
In this verse, we see that Paul was called Saul at first, then later Paul. However he is one and the same man.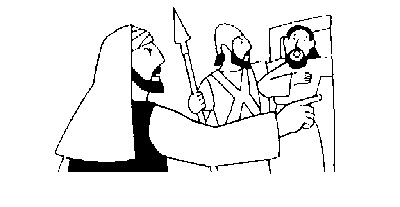 In chapters 7 and 8 of Acts, we have the record of Paul going around persecuting the people who would preach concerning the resurrection of Jesus and that He was the Christ, the Son of God. Paul, like most of the Jews, refused to believe that the man Jesus was the Messiah or Christ for whom the Jews were looking. Therefore, they would not accept Him as dying on the cross for the sins of the people. They would not believe that He arose from the grave. For this reason, Paul, who was very "religious," but not a Christian, thought it right to go around getting rid of all who preached Jesus as Christ.
We can see from this that "religion" is not Christianity. We can be religious just by doing good deeds, or going through some rituals or acts at church. Christianity is having Christ as our own personal Saviour. We can do this when we believe in our hearts that He was the Son of God, and He did die on the cross for each of us. If you haven't accepted Christ, you can do so today. This is the only way you will be saved. Christ is the only way to heaven. You must have Him to be a Christian.
Saul, though very religious, was not a Christian. Only when he accepted Christ as Saviour did he become a Christian.