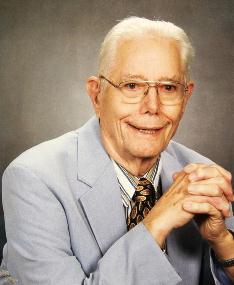 ( 1919 – 2012 )
Pastor R. B. Shiflet went home to be with the Lord on Wednesday, November 21, in Mineral Wells, Texas at the age of 93.
R. B. was the founding pastor of 11th Avenue Church in Mineral Wells, Texas, a work he began in March of 1950. He preached his last sermon in March of 2010.
R. B. received his master's degree in Education from TCU. He worked as a teacher and administrator in the Mineral Wells school system from 1953-1981. He was a veteran of the U.S. Army, having served in the Philippines in World War II, and was there when the country was liberated.
R. B. was preceded in death by his wife of 57 years, Lorena, who passed away in 2002. We rejoice in knowing they are now together in the presence of our Lord and Savior, Jesus Christ.
We thank the Lord for the faithful ministry of this dear couple and for the many years of fellowship we have enjoyed with them in the work of the Lord. R.B. was a regular writer for the Timely Messenger for many years and even served as editor for a couple of years back in the 1960s.
We ask you to be in prayer for R. B.'s family: daughter, Vera Mae Stilwell and her husband, Richard; son, Robert Shifet and his wife, Estha, and son, Randy Shiflet; as well as all their families.
---
"I have fought the good fight, I have finished the race, I have kept the faith." (2 Timothy 4:7)