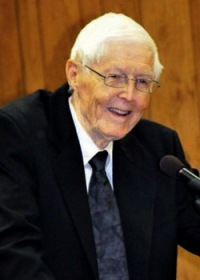 ( 1928 – 2011 )
Pastor James Roberts went home to be with the Lord on Thursday, November 24, at a hospital in Dallas, Texas at the age of 83. James served as pastor of Peace Congregational Church near Indiahoma, Oklahoma beginning in 1961 until he recently retired after 50 years of ministry.
James was preceded in death by his wife of 56 years, Jane Roberts, who passed away in 2005. We rejoice in knowing they are now together in the presence of their Savior and Head, the Lord Jesus Christ.
We are so thankful to the Lord for the faithful ministry of this dear couple and for the many years of fellowship we enjoyed with them in the work of the Lord, in worship services, Bible conferences, family Bible camps, and youth retreats.
We ask you to be in prayer for James's family: two daughters and sons in law, Jane Ann and Kerry Malakosky and Judy and Wayne Schoonover, son and daughter in law, Jim and Joan Roberts, six grandchildren, fifteen great grandchildren, sister, Betty Wood, and two sisters in law, Doris Rightmer and Sue Payton.
---
"Therefore, my beloved brethren, be steadfast, immovable, always abounding in the work of the Lord, knowing that your labor is not in vain in the Lord." (1 Corinthians 15:58)